Today has been far more focused on client work than on promotion, but I did get some great feedback and support for my #contentcoaching program in #alpharelease!
One of my #clients posted this message to her #Facebook page: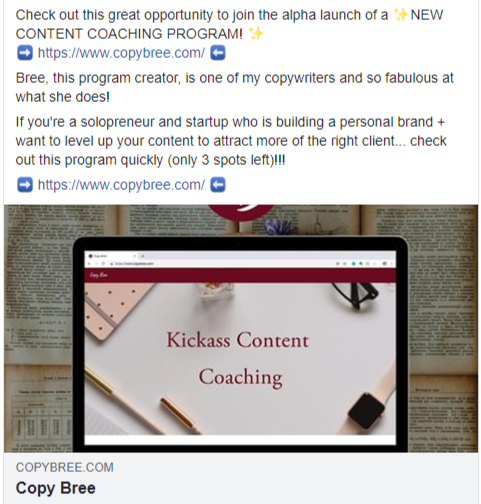 A colleague of mine in the same #entrepreneurial space sent me this message:
Yes, I changed the name for privacy purposes, although it's pretty sweet.

I've also set a new #goal.
I have 3 more spots to fill in the coaching #program, but I would like 1 to come from someone who doesn't know me at all – basically a totally #stranger who has never worked with me or even talked with me directly before. ✨
tl;dr I'm getting great feedback on the alpha release of my content coaching program. I still have 3 spots to fill and I'd like one to come from someone I haven't yet worked with or connected with before.
Author Bree Weber Published 1/17/2019, 9:25:12 PM Permalink