Update on my Kickass Content Coaching Program Launch
Yesterday, (January 15th) I launched an enrollment period for a #contentcoaching program, which stays open until January 30.
The program is geared towards entrepreneurs and #solopreneurs (who wear "all the hats" as they say). These are business owners who provide a service and are developing a personal brand, so writing for their business feels really personal.
The program is an #alpha release meaning I've developed and outlined the program, but this is the debut #launch. I'm looking for honest feedback from the participants to help me work out the kinks, and they get an awesome deal at 90% off.
I didn't do any typical launch #marketing
. I'm not advertising on Facebook, there's no email drip campaign, and I'm only sharing it selectively with my network. Here's what I actually did:
Set up a sales landing page on Squarespace with the help of a designer
Posted once to Instagram announcing the program launch
Emailed 5 colleagues, clients, and friends about the launch
Added the phrase "PS – I just launched a kickass content coaching program. Check it out!" to my email signature
Casually mentioned it for the last 2 weeks whenever anyone asked me about my 2019 goals or mentioned the word "resolutions"
I emailed my client list at the beginning of the year to announce my new business model (with content coaching) and to share updated 2019 prices
I enrolled 2 coaching clients in the first 24 hours 🎉
I'm super stoked to to see results – especially so quickly! I have made 5 spots available, and sold 40% in a day!! Let's take a look at what worked and what didn't work, so I can scale it:
1. Squarespace tells me I've received 21 unique visitors between January 13-16, but those numbers aren't entirely reliable due to a cookies dilemma that is being sorted out. Clearly, this is a big increase (read: 600%+) over having no site at all 😂

Squarespace Traffic ↑ for Sunday, January 13 – Wednesday January 16, 2019
Most of these numbers are from direct sources, likely the links I've been emailing out. I haven't used target links for different platforms etc, so I'm not 100% certain of the direct link source.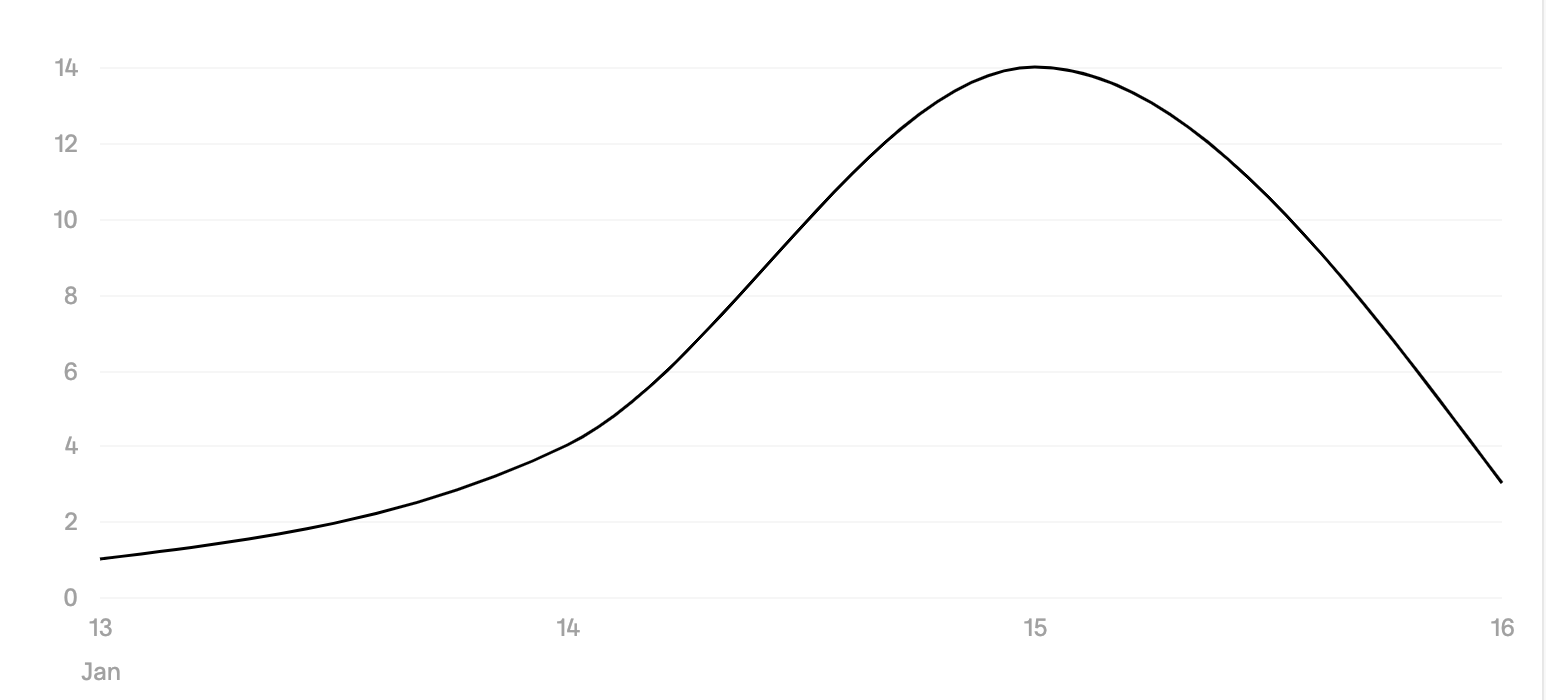 Squarespace Visits ↑ for Sunday, January 13 – Wednesday January 16, 2019
2. According to my
Linktree page
,
the Instagram post has brought me 0 traffic
.
3. Out of the 5 colleagues, clients, and friends I emailed, 2 replied to ask questions or promise to share the link.
4. After updating my email signature with the "PS", I emailed 8 people (excluding the 5 colleagues, friends, and clients). 0 responded to ask questions or get more information.
5. This is the hardest to quantify, as I've been casually chatting about the program in coffee dates, virtual meetings, networking groups, and happy hours, but I would estimate I shared this with 30 people at most. 1 acquaintance who heard me share my launch plan goals after speaking about the "how-tos of content strategy" during a small networking group (of 10) asked me for more information, and enrolled on the launch date within 10 minutes of receiving the invitation link.
6. The client update email went out to 30 subscribers on January 9th. 1 former client replied to ask for more information, and enrolled on the launch date within 1 hour of receiving the invitation link.

So, actually I enrolled 2 coaching clients in less than 2 hours 🤯
Numbers Summary
Both of the enrolled clients had a previous relationship with me – either as a business acquaintance who received free training from me or a former client who knows my work, which tells me to focus on my core network as my target audience.
Both heard about the program when it was shared publicly (announced to the whole networking group and emailed to a group of clients), and reached out individually to discuss it one-on-one – which encourages me to focus on a bulk announcements and allow people to filter themselves in or out.
Both enrolled quickly after receiving the invitation link (which included approving a quote, signing a contract, and making a payment) which tells me I have a high-value offer that speaks for itself.
#analysis #programlaunch #contentwriter #copywriter #newbusinessmodel #marketingexperiment
tl;dr I launched the alpha release of a content coaching program, and enrolled 2 clients in less than 2 hours. This is a breakdown of the limited marketing I did for the launch, an analysis of what worked, and a summary of main takeaways from the data. I've still got 3 more spots to fill and 14 days to do it.
Author Bree Weber Published 1/16/2019, 5:32:09 PM Permalink